Herceg Novi is a major Montenegrin tourist destination. It is well known as a spa and health center; nearby Igalo has an abundance of healing sea mud called "igaljsko blato" (Igalo mud) and mineral water springs called "igaljske slatine" (Igalo water springs). The most famous tourist attractions in Herceg Novi are castle Forte Mare built by the Bosnian king Tvrtko I in 1382, a clock tower built by Austrians in 19th century, the Kanli tower built by Turks, and the Serbian church St. Michael Archangel in central Belavista Square.
Whilst the city itself is not a major destination for sunbathing, with no long sandy beaches along the rest of the Boka Kotorska bay, many beaches are reachable by boat. Tourist companies organise one-day boat trips to Luštica peninsula, which lies opposite to the town. Popular Luštica peninsula beach sites include Žanjic and Mirište (or Rose). Herceg Novi accounted for one-third of overnight stays in Montenegro before the Yugoslav wars, but the situation has changed since in favour of Budva, Kotor and other resorts in the northern part of the coast. The biggest issue facing tourism in Herceg Novi is a constant shortage of tap water, which is imported from Croatia. The city's inability to pay for the water from Konavle results in frequent cut-offs of water and dry taps, especially during the peak of the summer season.
Herceg Novi is usually the final destination of buses that come from inland Montenegro and Serbia. The Adriatic Motorway, a two-lane motorway that extends for the length of the Montenegrin coast, goes through Herceg-Novi before it merges with the Croatian road network at the "Debeli brijeg" border crossing.
The ferry operates on the Kamenari - Lepetane line at Verige Strait, eliminating the need to go all the way around Boka Kotorska bay in order to reach Tivat, Kotor, Budva and inland Montenegro.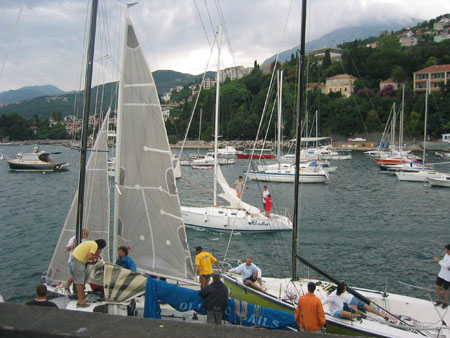 Tivat Airport is 23 km away (via the ferry). There are regular flights to Belgrade and Zurich, and dozens of charter planes land daily on Tivat airport during the summer season. Dubrovnik Airport in Croatia is some 30 km away, and it maintains regular flights to many Europenan destinations.